A set of house building plans
needs a well designed foundation.


A comprehensive foundation plan is a very important ingredient of quality house building plans and can set the tone for the entire construction process. If the foundation is not designed properly, then the rest of the structure will suffer for it. It is very important to make sure that all bearing points in the house have adequate footings underneath them. In California, earthquake building design considerations directly affect the size of concrete footings and the amount of steel reinforcement that is placed in those footings.
Because of the earthquake codes and the many hillside lot locations in Southern California, most new homes are required to have structural engineering calculations which specify footing depths and the type and amount of foundation steel required.

For a number of years, we have worked with a structural engineer who provides calculations for the foundation and framing. After we have drawn the framing plan, sections, and foundation plan, we get prints to the engineer so he can run calculations on the house. When we receive his completed calcs, we incorporate information from them into the plan including any needed details. The finished set of house building plans gets submitted to the building department with these calculations attached.
 
Over the years, foundation plans have become more complicated due to changes in the earthquake building design code. In addition to the steel reinforcement bars in the concrete slab and footings, there are also special steel holdown straps that are required at key bearing points which tie the wood framing members to the foundation. Below is an example of our foundation plan. This one shown is a concrete slab foundation. We can also design a raised floor foundation which is preferred by some people.
Close-up view of Foundation Plan detail.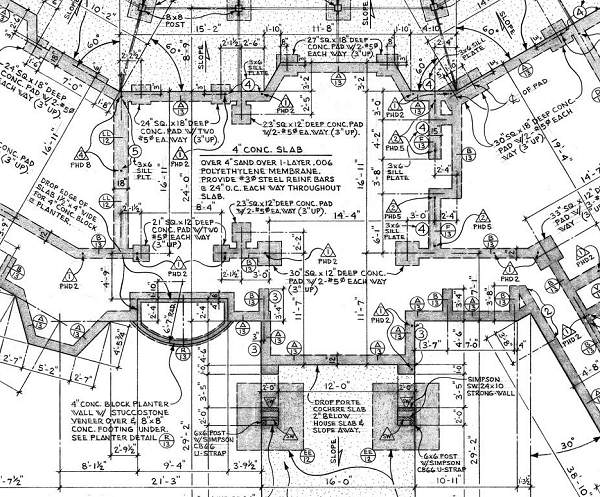 High quality home plans feature good design, lots of detail, and dimensional accuracy. We strive to achieve all of these things on every plan we do. If the foundation plan is laid out correctly, the entire building process runs more smoothly.
There are many foundation details in a set of house building plans which must be drawn. Concrete footing details are referenced from the foundation plan to the details sheet (and vice-versa) through the use of foundation symbols. There is also a "holdown strap legend" and a "anchor bolt legend" found on this sheet. And we provide a patio layout on this sheet so that the contractor makes sure to include that in his bid. All in all, it is a very informative and detailed page in a set of home plans.
Other important structural building pages include:

The Framing Plan

The Structural Sections sheet

The Details sheet

Roof Truss calculations
You can search the web or the pages of this
site using the Google search box below.
To return to our home page, click here.
Copyright 2007-2023 Minkler-House-Plans.com
All plans and photos are copyright protected. All rights reserved.