Spanish Mediterranean house
plans blend two great home
design styles into one.

Both Spanish and Mediterranean house plans are very popular in Southern California. These two home design styles share much in common and elements of both styles can be blended nicely into one great design.
This Spanish Mediterranean home is located in Fallbrook, California. It is almost 6,000 square feet in size.
View of the right half of this home. There is a
drive-through Porte Cochere at the house entry. 
View of the left side of house. The Porte Cochere is seen at right.
Spanish home design usually features a stucco exterior and often is seen with lots of arches inside and out (things such as arched verandas, arched windows and arched interior wall openings, etc.). Authentic Spanish house plans also feature exposed heavy timber rafter tails at the roof eave line instead of a fascia board or molded stucco eave.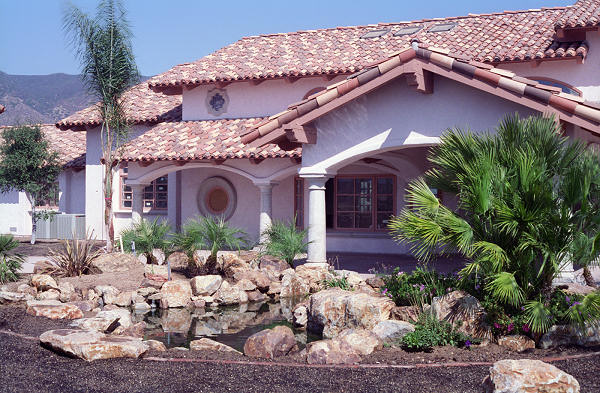 Closer view of entry area and Porte Cochere. The exposed
wood rafter tails can be seen along the eave line.
This photo shows the back side of the house.
Mediterranean house plans also have a stucco exterior, although the use of arches is somewhat more limited. This style home is often seen with rafter tails too (like the house pictured here), although a molded eave look is frequently seen also. Both house plan designs feature a mission style tile roof (the more authentic roof tiles are made of clay).
This home features a large loft accessible
from the Family Room below.
View from the loft looking down into the Family Room.
There are several skylights in the Family Room and loft
area for added natural light.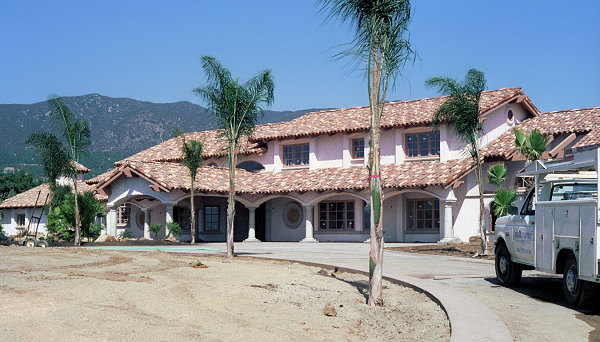 Another look at the front of this Spanish Mediterranean home.
Spanish Mediterranean house plans also share some similarities with Tuscan home design. Tuscan architecture uses more exterior stone, but all three styles (Spanish, Mediterranean and Tuscan) have low-pitched roofs (usually no steeper than a 4:12 pitch and often less). These home styles definitely have a broad appeal to the general population at large - and will continue to for a long time to come.

Other popular home building styles include:

Mediterranean home design

Country French home design

English Tudor home design

Ranch style home design
You can search the web or the pages of this
site using the Google search box below.
To return to our home page, click here.
Copyright 2007-2023 Minkler-House-Plans.com
All plans and photos are copyright protected. All rights reserved.