The best custom home plans
include detailed interior drawings.

In order to be complete, a set of custom home plans should also include drawings of the house interior. We provide detailed views of all cabinets in the house. In addition, we specify what type of wood will be used for the cabinets, and what type of counter top and counter splash to use (tile, granite, Corian, etc.).
We also draw a view of the fireplace and call out the type of mantel (if there is one). The tubs and showers in all baths are drawn along with the bath cabinetry. And we even detail the inside of walk-in closets showing any built-in cabinets and the height of the hanging poles. If there are arched openings or recessed wall niches in the home, these get drawn as well. In short, any interior feature which needs more clarification gets detailed on this sheet. An example of our interiors sheet is shown below.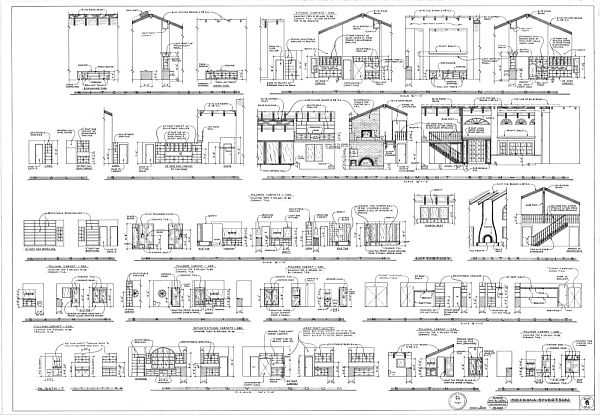 Close-up view of interior sheet detail shown below.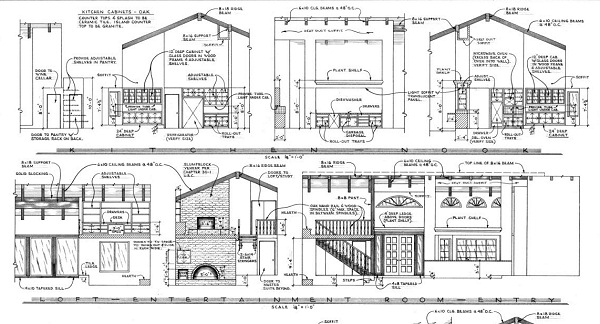 At the stage where we deliver the quarter-inch floor plan and exterior elevations to our client, we spend time discussing the upcoming interior drawings and take a number of notes. Starting with the kitchen, we find out where the client would like cabinet drawers, roll-out shelves, a microwave oven, etc. We then proceed room by room asking more questions regarding each bath, closet, fireplace, wall niche, etc. Any home design idea that our client would like to discuss is explored in detail at this meeting. We then have enough information to draw the interiors sheet.
Many custom home plans do not provide this level of interior detail. But to have a complete home building design prepared and ready to go out to bid, you need this plan sheet to be very informative. Some architects and designers will only provide kitchen and bath cabinet details, but we like to cover all interior features of a home.
Just as the elevations sheet shows the exterior home design style, the interiors sheet highlights the interior design of the home. The building department does not require an interior detail sheet to be in a set of custom home plans. But we have found that including it with the working drawings eliminates lots of "guesswork" once the house is under construction. And both the owner and the contractor appreciate that!
In a finished set of custom home plans, the interiors sheet follows the elevations sheet.
More pages related to home interior design:

Home remodeling page

Guest house design

Pool house design

Home fireplace design
You can search the web or the pages of this
site using the Google search box below.
To return to our home page, click here.
Copyright 2007-2023 Minkler-House-Plans.com
All plans and photos are copyright protected. All rights reserved.