Two story house plans come in
many different styles and shapes.

There are many ways to design a set of two story house plans. You can create a full two story house (for example, a Colonial house design) or a partial two story. A third variation is a split level house design. This type of home usually appears as a single story from the front but a two story on the back. It is most often used on sloping lots.
The home pictured below is a partial two story with the second floor built over the garage. This home is also built close to the edge of a steep slope and has a full length deck on the back of the house.
This home is located in Fallbrook, California and is
4,600 square feet in size.
Another view of this home showing some of the view beyond.
Close-up view of the entry area.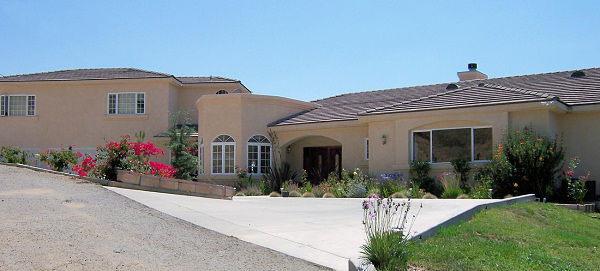 Front view of house taken at the driveway entrance.
Two story house plans do cost a little bit more to build (on average) than do single story house plans, due to the additional need of a stairway and a two story foundation. However, there could be some savings in roofing costs which help offset these extra building items. By any measure, they are very popular with many of our clients and are often the perfect solution to a small building site area.
Other popular home building styles include:

Mediterranean home design

Spanish Mediterranean home design

English Tudor home design

Country French home design

Modern style home design
You can search the web or the pages of this
site using the Google search box below.

To return to our home page, click here.
Copyright 2007-2023 Minkler-House-Plans.com
All plans and photos are copyright protected. All rights reserved.