All ranch house plans are not
created equal. Some even feature
steep-pitched roofs.

When people think of ranch house plans, they often think of long rambling homes with a somewhat rugged looking exterior. Low pitched roofs and long covered verandas also are frequently seen with ranch style house plans (or even country house plans). However, this is not always the case. There are many fine examples of ranch style homes which "break the rules" so to speak.
The home shown below fits in that latter class. We designed it in late 2005 and it was completed in early 2007.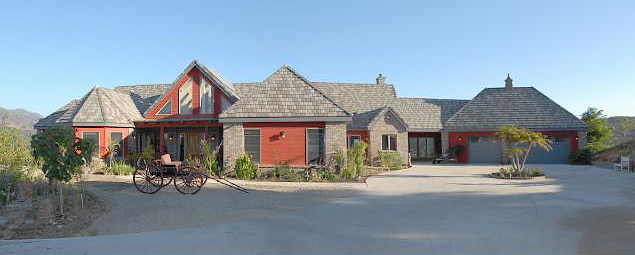 This ranch style home was built in the hills of north San Diego County in 2007 (not far from Temecula). Photographs of this
home are shown courtesy of Rebecca Negard of
Sotheby's International Realty.
This ranch home design actually has a much steeper roof pitch (12:12) than most homes of this style have. Steep roof pitches are usually associated with English Tudor architecture or Country French architecture. Yet the exterior home design shown here still has that "ranch look" - in part because of the exterior materials chosen. The interior of this house also features some formal unique touches which are not usually found in ranch house plans.
Closer look at the front of the house. The high glass area on the left is part of a large atrium in the Entryway. By the way, it appears that the roof tile is uneven in the center portion of the photo, but that is not the case - it is a photographic glitch.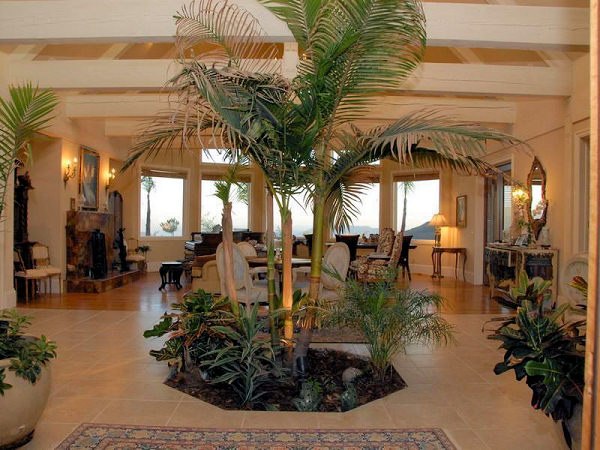 This is a view from the Entryway looking into the Great Room beyond. There are skylights above this area.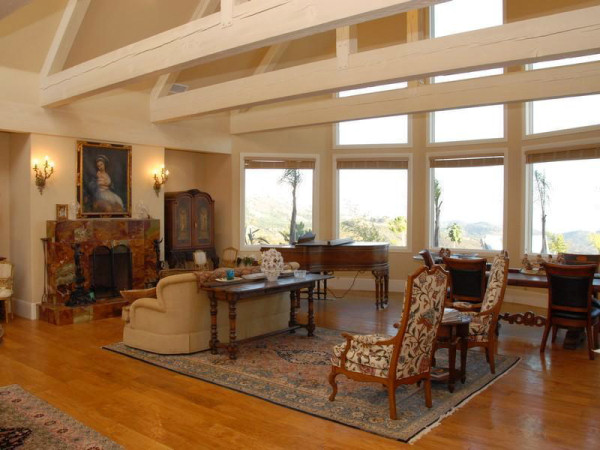 A tall open beam ceiling and large rounded bay
windows highlight the Great Room.
View of the Great Room fireplace. Typically, ranch house plans might feature a brick or stone fireplace, but this is one of those formal touches which help make this home unique.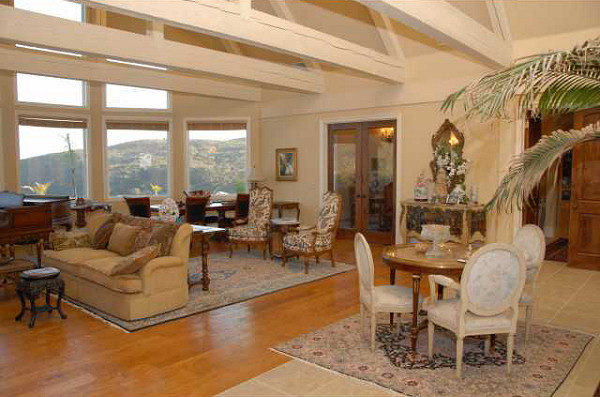 Another view of the Great Room looking toward the Dining Room (which is located behind the pair of glass French doors).
The interior house design was a big factor in the exterior design of the home. The owner sought lots of high open beam ceilings throughout the house and a tall, glassed-in sunroom (or atrium) in the entry area (a unique feature for ranch house plans). A steep roof pitch allowed for these desires to be realized. Although it is only a single story house, the ridge height of the Entry and Great Room
is 26 feet.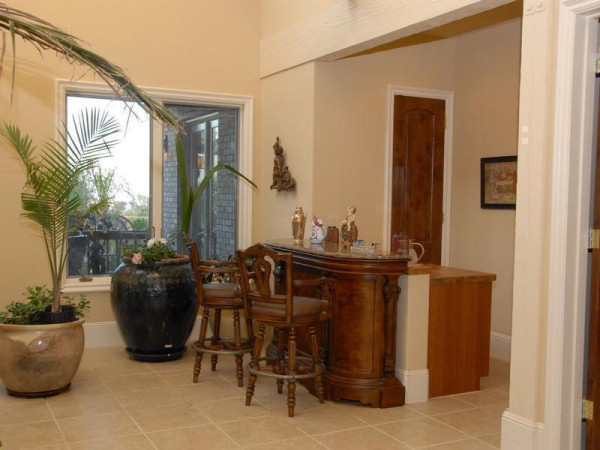 This wet bar is located to the left of the Entry (as you enter the house) and is accessible to both the Great Room and Atrium.
Partial view of the kitchen which is 18 feet wide. We originally designed an island in the center of this kitchen, but the owner decided to place this large antique table there instead.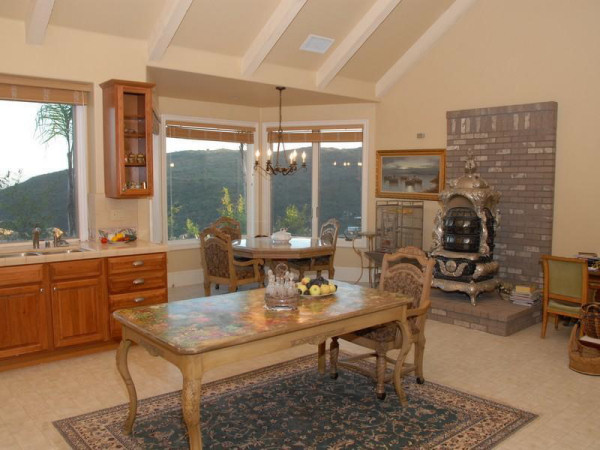 The breakfast nook eating area sits in a bay window alcove.
Right next to it is an antique wood stove.
This home also incorporates a more formal interior house design in some of the rooms than you might find with most ranch house plans. The owner had lots of antique furniture which required more formal surroundings in which to showcase it. But the overall impression that one is left with is definitely that of a ranch house.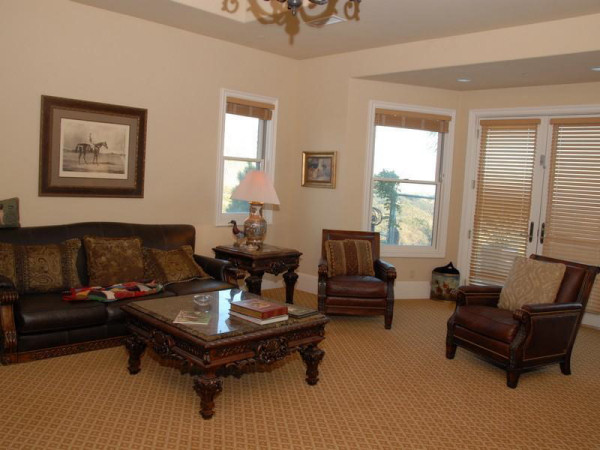 This is a portion of the Master Suite (which includes a sitting area). This room features a recessed coffered ceiling which doesn't show much in this photograph.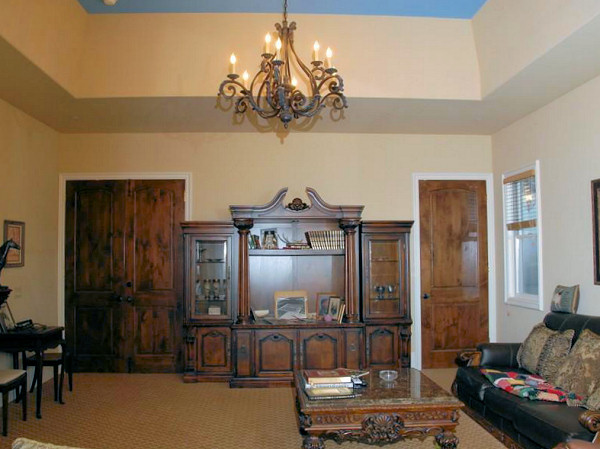 Another view of the Master Suite. The double doors lead to the main Gallery and the single door leads to the Master Bath and closet.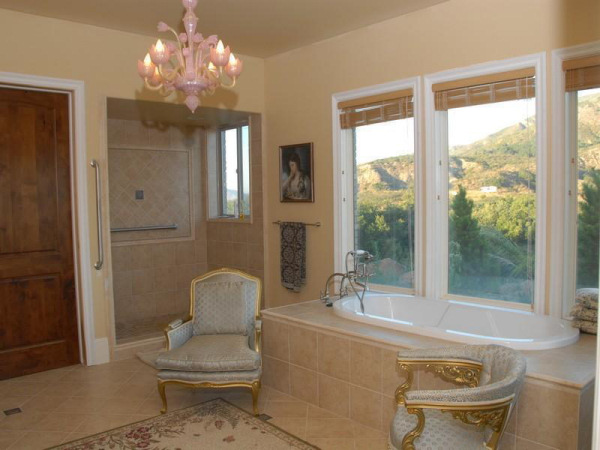 The Master Bath includes both a large tub and walk-in shower.
Another view of the Master Bath.
Ranch house plans (and other home design styles), can be found throughout this website under the "House Photos" buttons. Many times, the exterior home design ends up being a blend of two or three different styles. But each home is always a unique work of art.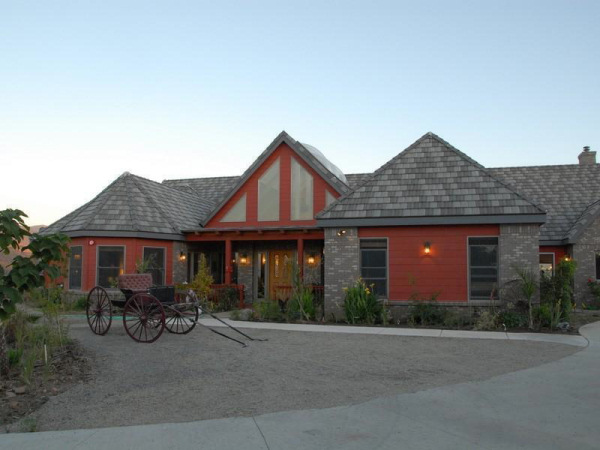 Another look at the house Entryway....
....and one more look at the Garage wing.
Side Note:
Take a look at our collection of custom home designs available on compact disc.
Other popular home building styles include:

Mediterranean home design

Spanish Mediterranean home design

English Tudor home design

Modern style home design

Country French home design
You can search the web or the pages of this
site using the Google search box below.

To return to our home page, click here.
Copyright 2007-2022 Minkler-House-Plans.com
All plans and photos are copyright protected. All rights reserved.