House plans come in many different
styles, but good Country French house
plans stand out above the crowd.

Many people love the look and style found in quality Country French house plans. Both single story and two story homes fit nicely with this design style. The house pictured on this page (shown under construction) is a single story design. It was built in the early 90's and is located in the gated community of Bear Creek near Murrieta, California. The home is over 5,000 square feet in size.
Country French homes have beautiful steep-pitched roof lines
and frequently make use of brick and stone on the exterior.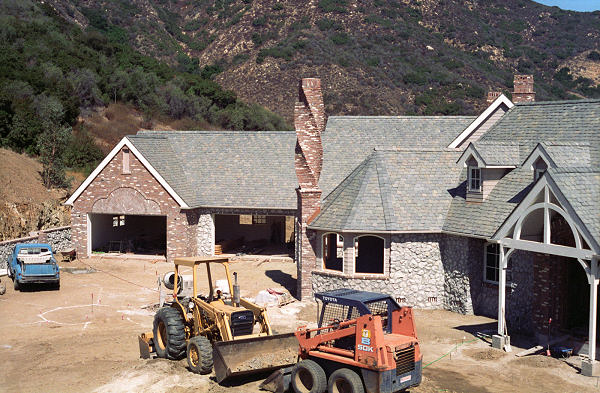 Another view of the front showing the unique brick-work on the twisting fireplace chimney and on the garage wall beyond.
This is the back side of the house. Roof
dormers are used on both sides.
Another view of the back showing both
brick and stone on the exterior.
Country French house plans have steep-pitched roofs (this home has a 12:12 roof pitch). They incorporate lots of brick or stone on the house exterior - or both as you see in this house example. They also feature windows (wood frame or vinyl) with individual window panes or muntins.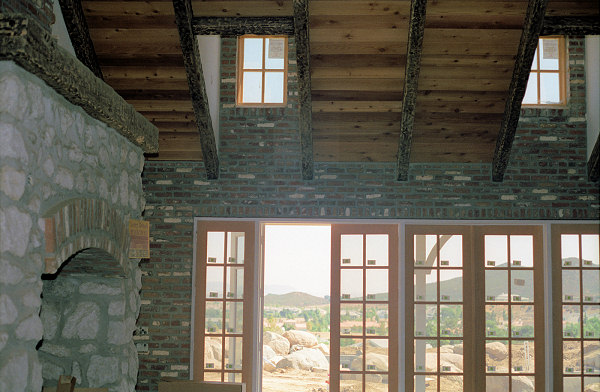 Interior view of the Family Room showing the roof dormers from the inside. Dormers are often used in Country French home design.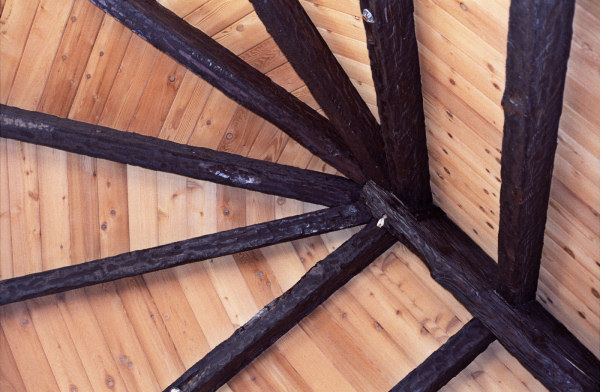 This is a photo of the wood beam ceiling in the Library.
The beams were designed to be self-supporting with
no support beam or post underneath.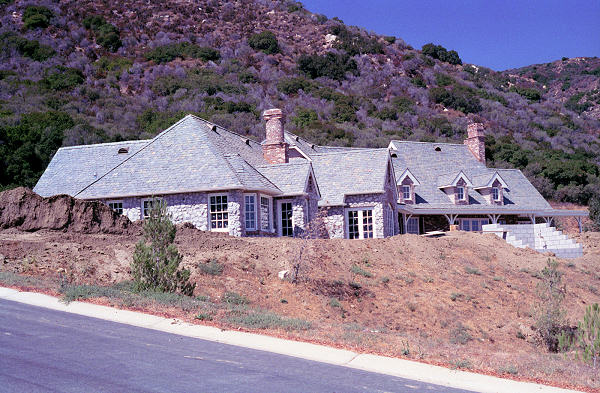 Back view of the house as seen from street level.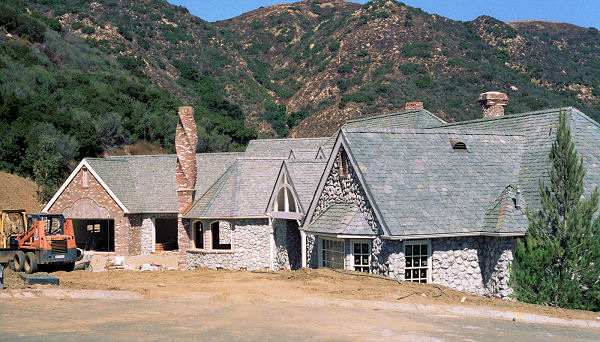 Front view of house as seen from street level.
This house style lends itself to some very creative home design possibilities. Curved stairways, round turrets and lots of bays (both angled and curved) are frequently seen with this style of home. Country French house plans and designs share some characteristics with English Tudor architecture. It will always remain a very popular and desired home design.

 

Other popular home building styles include:

Mediterranean home design

Spanish Mediterranean home design

English Tudor home design

Ranch style home design
You can search the web or the pages of this
site using the Google search box below.
To return to our home page, click here.
Copyright 2007-2023 Minkler-House-Plans.com
All plans and photos are copyright protected. All rights reserved.