Good English Tudor architecture is a
style which has stood the test of time.

While there are many different home styles, English Tudor architecture remains a favorite for a lot of people. Tudor style house plans usually feature a steep-pitched roof. They also use stucco (or plaster) on the exterior with lots of wood trim. Another feature of this home style is the liberal use of brick or stone on the exterior.
This English Tudor home is located in Fallbrook, California. It
is over 5,000 square feet in size and was built by Don Kraft.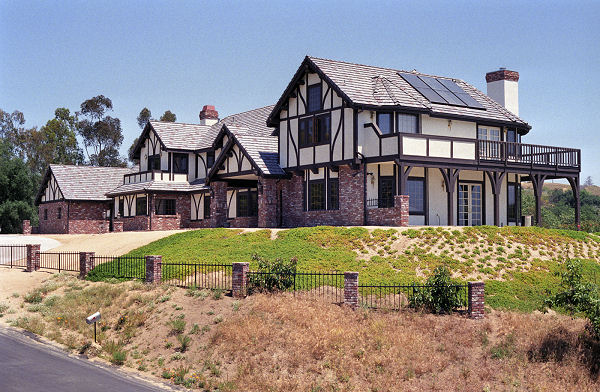 End view of Tudor home in Fallbrook (solar panels on roof).
View of the Family Room fireplace.
Country French home design is somewhat similar in appearance to Tudor house plans, although it tends to feature more hip roof designs (rather than gable roofs) and also frequently incorporates roof turrets. English Tudor architecture, like other great architectural styles, will continue to be a popular home style for many years
to come.
Other popular home building styles include:

Mediterranean home design

Spanish Mediterranean home design

Tuscan home design

Ranch style home design
You can search the web or the pages of this
site using the Google search box below.
To return to our home page, click here.
Copyright 2007-2023 Minkler-House-Plans.com
All plans and photos are copyright protected. All rights reserved.