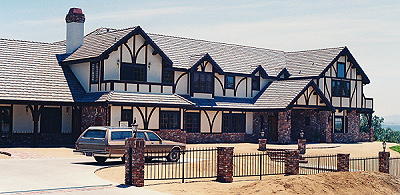 The process of drawing house plans
requires structural engineering calculations.

There are a number of items which must be completed throughout the process of drawing house plans. One of these items is obtaining structural engineering calculations for the new house plans. These engineering calcs are required by the building department to prove that the home meets all current earthquake building design codes.
The structural engineer specifies minimum beam sizes, the type and nailing of the plywood shear panels (exterior plywood which is nailed to the stud walls for bracing), and any special connection or shear transfer details which need to be shown when drawing the plans. He also figures the minimum footing sizes for the house foundation, and specifies the number and type of foundation holdown bolts required.
A set of house plans is approximately 75% finished when we take the plan to an engineer for the structural calcs. We take the plan to Bruce Manning (Manning Engineering) in Temecula, unless our client already knows of another engineer they would like to use. Bruce has been in the business for many years and his calculations are respected by the various city and county building departments in Southern California.

Below is a sample of structural engineering calcs as provided by Manning Engineering.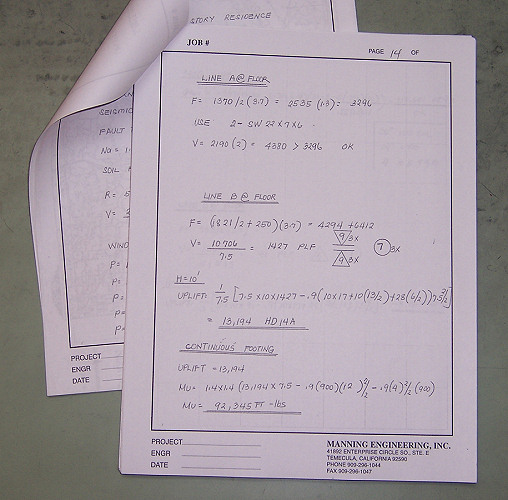 A set of house plans which incorporate solid earthquake building design details leads to a well built, quality home. The structural calculations are an important part of the framing layout when drawing house plans. Once the plans are completed (including the engineering calcs), they are ready to be submitted to the building department.
Other required plan calculations:

Title 24 energy calculations

Roof truss calculations
You can search the web or the pages of this
site using the Google search box below.
To return to our home page, click here.
Copyright 2007-2023 Minkler-House-Plans.com
All plans and photos are copyright protected. All rights reserved.