There are a wide variety of window
manufacturers to choose from when
you are building a house.

Window manufacturers are definitely not in short supply. Wood framed, vinyl framed, and aluminum framed windows are made by dozens of different companies. In fact, some of these companies manufacture all three types. Choosing which type is best for your particular home design can sometimes be a difficult decision to make (there is not always a right or wrong answer either).
Aluminum windows are far and away the least expensive way to go. For years, most small to mid-size homes in Southern California (and even many large ones) used aluminum framed windows. They can be ordered in many different colors and are very durable (and also maintenance -free). However, some people feel that they are too sterile or plain looking and are better suited for commercial applications. But this type of thinking does not apply to all homes across the board. Some specific home designs and styles lend themselves to the use of aluminum windows (such as a contemporary or modern home design).


The next step up the expense ladder is vinyl windows. They cost a little bit more than aluminum windows but feature wider frames (which many people like) and a more finished appearance. They have become the most popular frame type over the last 15 years or so.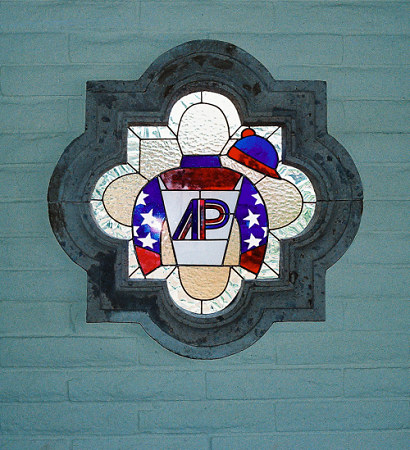 Stained glass windows can add a touch of elegance or interest to a home.
The most expensive type of window to use is a wood framed window. There is no doubt that a wood window looks more elegant than either aluminum or vinyl. But you definitely pay a price for that "look". Wood windows also require more up-keep and maintenance than the other two types (for obvious reasons). Most people who choose a wood framed window opt for the "clad" version. Wood clad windows have a vinyl coating on the outside of the frame (to protect the finish), but feature exposed wood on the inside. This helps a great deal with the maintenance issues.

Of course, all three types offered by window manufacturers come with double pane glass for energy effiency. And many windows also feature
"low E glass" (these windows have a slight tint applied to them) to further enhance their energy saving properties. Wood framed windows are most often seen in a casement window format. This is the type of window which opens out with a hand crank. Aluminum windows are most often seen in a sliding window frame. And vinyl windows are equally found in both sliding and casement frame formats. However, many wood window manufacturers now offer frames in both formats (sliding and casement) since some people prefer a slider over a crank-out. Also, many wood framed replacement windows used in remodels need to fit into existing sliding window openings. You can also get any type of window in a single or double hung frame (the type of window which slides up, down, or both), or as an awning window.
Some of the better known and more popular window manufacturers are the following. For wood framed designs, the top two are "Pella Windows and Doors" and "Andersen Windows and Doors". There are many other manufacturers equal in quality to these two but just not as well known. For vinyl frames, one of the most popular companies (at least in this area) is "Milgard Windows". In fact, Milgard is one of those companies which makes all three types of frames. In the realm of aluminum windows, we consider "Windowmaster" to be one of the best. They have been around for a long time and they specialize in aluminum framed windows.

Most companies who make wood or vinyl framed windows also manufacture French patio doors. These are a popular alternative to using a sliding glass patio door. Any window manufacturer is also capable of having custom window sizes made up for a client. Of course, this adds considerably to the cost, but it sometimes cannot be avoided. Most of the time however, a standard window frame size can be specified on the plan. We seldom call out for a custom window size - unless there are a lot of unusual window shapes or sizes which our client wants to incorporate into their design. Even a arched window treatment over a door or window can usually be accomplished using a standard sized window frame.

The field of window manufacturers is a very competitive one and it pays to shop around before settling on one brand. Many companies have elaborate showrooms on display where you can inspect the quality of their windows and try out the various window types yourself. Settling on a window company is a very important part of the building design process.


You can search the web or this site using the Google search box.
To return to our home page, click here.
Copyright 2007-2023 Minkler-House-Plans.com
All plans and photos are copyright protected. All rights reserved.